Performance
Our latest performance (throughput) tests for our Linux Native Sockets implementation of Stream Control Transmission Protocol can be viewed here.
Older performance tests peformed by Lockheed Martin Advanced Technology Laboratory on our Linunx Kernel Native SCTP (Stream Control Transmission Protocol) implementation (linux-sctp-0.1.tgz) can be found here.
Performance tests peformed by OpenSS7 on our STREAMS version of SCTP have yielded even better performance figures (actualy a whole bunch better) that were obtained by Lockheed Martin on the Linux Native SCTP. I suppose STREAMS just works better.
Performance tests peformed by OpenSS7 on our T/E400P-SS7 device driver (strss7-0.7.10.tgz) can be found here. Our performance tests pulled in incredible results: running 96 SS7 links simultaneously running 1 Erlang of traffic each (1 flags between frames). (Wanna make an STP out of an old PC?).
Forced to use V.35? We have done performance tests on the ACB56 driver in the past; but we lack cards to perform tests now. If anyone is interested in peformance tests for this card, you will need to at least donate some hardware for the testing (we only have one card covered with dust right now).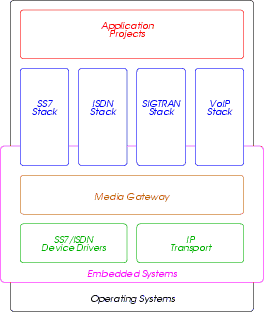 This section provides test results for performance testing of applications. There are currently no performance test results for applications.
These are the results of performance tests on the SS7 stack.
Integrated Service Digital Network (ISDN) Stack
SIGnalling TRANSport (SIGTRAN) Stack
These are results of performance tests on MG switching components.
Internet Protocol (IP) Transport